SAGUARO SILLINESS
The giant Saguaros indigenous to the Sonoran Desert have been slowly mutating in some sections of Southern Arizona, according to cactus expert Sam Stickerino. He has been studying a phenomenon seen only in certain areas south of Tucson, where a number of Saguaros have been slowly evolving into a new species, known locally as the Sagolfo Cactus.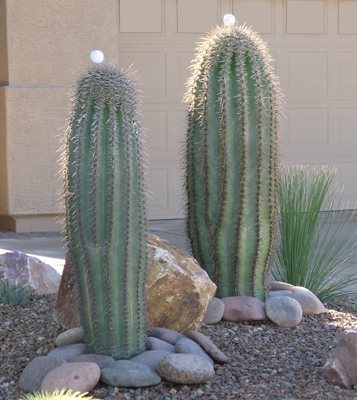 "The mutant Sagolfo is identical to the Saguaro, except that it's blossoms are in the shape of a golf ball," Sam told a local television reporter. "It has cropped up mainly in the Sahuarita and Green Valley areas, and is thought to be due primarily to the recent proliferation of golf courses - almost a dozen of them have been built in the last 20 years, and they are having a very definite effect on the local cacti."
The strange cactus has been spotted most frequently in Quail Creek, a golf community east of Green Valley that is home to 27 holes of golf, thousands of cactus plants, and a billion golf carts. The inset shows a pair of Sagolfos discovered in a Quail Creek resident's yard this week.
"Nobody knows for sure what causes the cactus to mutate," Stickerino said, "but most researchers lean toward a combination of thousands of golf balls flying around each day plus the constant whine of all those golf carts darting all over the place."
Whatever the cause, these mutant Sagolfos have cropped up in several areas recently, and experts like Stickerino are becoming concerned that we might be polluting the Sonoran Desert flora with our housing developments and golf courses.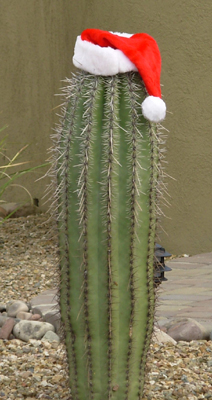 The new mutation is considerably more troubling than older and better known cacti variations, such as the Santaguaro cactus shown in the inset at the left. This cactus only blooms in the late fall or early winter, and has a distinctive hat-shaped red and white bloom which generally disappears early in the new year.
"As more people move into the area we expect to see more mutations of this sort," Stickerino said. "We have already seen several instances of the May Polecotillo, and I'm on my way to Tubac now to check out a reported sighting of a line of Luminariagaves".