This article will cover the methods peculiar to the turning of a miniature vase with a natural edge "collar" - where the upper neck and rim surfaces are intentionally left "natural" to enhance the look of the turning. No attempt is made to teach basic woodturning, tool usage, or sharpening, as it is assumed you already have those skills.

Start with a raw blank that has a rough, sloping top. If it still has bark on it, fine. If the bark is very thick, you may have to stabilize it with CA glue before beginning to cut.
Since miniatures don't incur as much stress as full size turnings, you can attach them with CA glue to a waste block and chuck the two pieces using a scroll chuck (a screw chuck will also work).
First you need to round the block down. Because of its asymmetrical shape, you will be "cutting a lot of air" at the top of the piece. This requires the use of very sharp tools and a lot of concentration. If you watch very closely you will see that the voided areas at the top form a "ghost" image as the piece turns. To cut the edges of the collar cleanly, use a gouge - a scraper will just break the edges.

Leave the top of the "ghost" as large as possible, and cut inward from there to create a "neck" on the vase. Don't make the neck too small; you will be hollowing it to some degree. Shape the remainder of the blank to create a pleasing shape in proportion to the "collar". At this point you can sand and finish the exterior profile.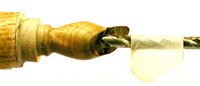 Drill a hole in the neck using the tailstock to steady the drill and a mark on the drill to control the depth. If the piece is left with a simple drilled hole, it will technically be a bud vase. If it is hollowed out below the neck it becomes a vase. The vase shown is hollow.
If you do hollow the vase, use extreme care and don't let the hollowing tool touch the "natural" portion of the collar or the piece will be ruined.

For a miniature, you will probably have to make your own hollowing tool - a small awl or pick flattened at the end to make a scraper then bent at about a 30° angle for the last ˝ inch will do nicely.
After hollowing, sand and finish the inside. Then part the vase off the waste block and finish the bottom. You can tell from the picture that this vase is hollowed beginning just below the neck. The little spike left at the top left adds interest. This vase was made from Maple wood.
To purchase a wood turning kit for making these natural edge bowls, or to see a selection of wood turning kits, visit our FGVminiATURESTM store on eBay.
Copyright© 2003, by Frank G. Van Atta. All rights reserved.